Introduction
China ranks among the highest exporters of many products in the world. The large labor force and high technical expertise of Chinese industries make the Chinese export one of the most sought-after in the world. It is the same for the furniture industry.
According to 2018 statistics, China is the largest producer of furniture in the world. The China furniture industry handles about 35% of the overall furniture export worldwide. After China, only Germany comes close.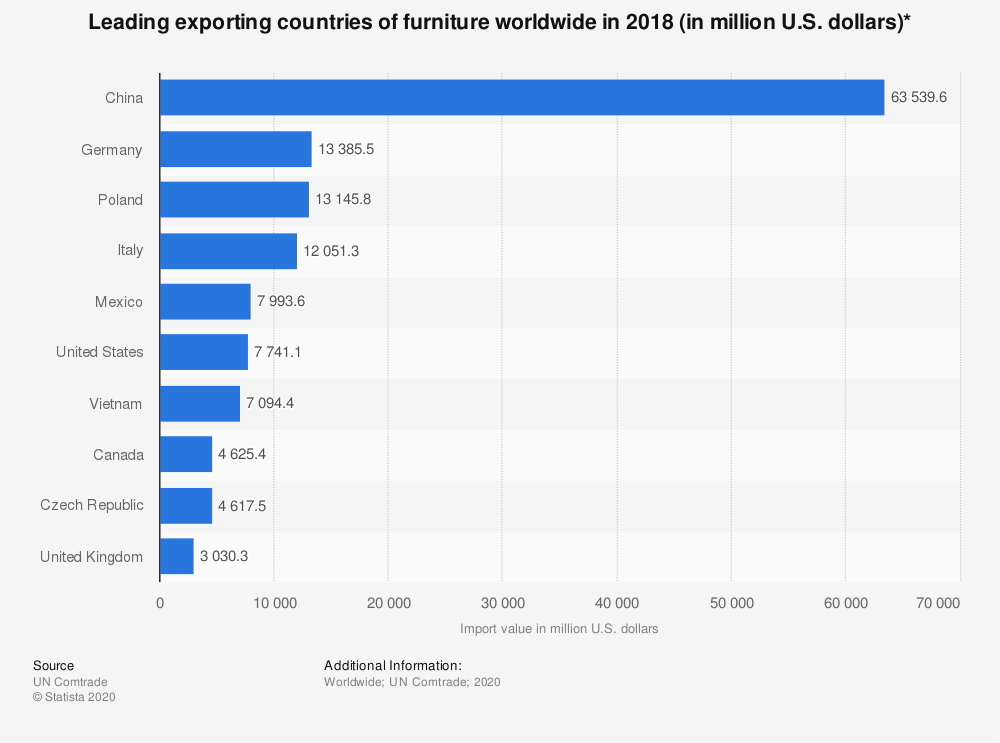 Top five furniture supplier locations in China
Are you thinking of getting a new supplier for your office? Then it is necessary to know the various industrial zones. Having detailed knowledge about these zones would give you an idea of the best places to buy furniture for your office and firms. Let's talk about them.
These are the industrial zones:
The Pearl River Delta furniture industry zone,
The Yangtze River Delta furniture industrial zone,
The Bohai rim furniture industry zone,
The Northeast furniture industry zone,
and the western furniture industry zone.
Before going into each industry zone, let's talk about their locations. These industrial zones lie in:
The Pearl River Delta furniture factory operates in Guangdong province in areas such as Shunde, Foshan, Dongguan, Guangzhou, Huizhou, and Shenzhen.
The Yangtze River Delta industrial zone has its base in Shanghai, Zhenjiang, and Jiangsu
Bohai Rim furniture factory operates in Beijing, Shandong, Hebei, and Tianjin
The Northeast furniture factory has station in Shenyang, Dalian, and HeilongjiangWestern furniture factory operates in Chongqing and Sichuan
These zones account for about 90% of China's furniture production capacity. As a matter of fact, a recent statistic shows that there are more than 60,000 China furniture manufacturers in these zones. This is why you can easily buy all sorts of office furniture from these zones.
The first four industrial zones consist of large-scale production enterprises focused on the international market. They are the main areas for supplying China's market and furniture export. On the other hand, the western furniture factory caters to the domestic market.
Guangdong in the Pearl River delta and Zhejiang in the Yangtze River delta has the highest output and export values. As a result, they have a reputation as major furniture manufacturers and exporters in my country. This makes them the leading furniture industrial zone in China among the five industrial zones.
I'll explain a bit about each industrial zone so you can know which one works for you. Prior knowledge of the different industrial zones would help you make the best choice when choosing a supplier.
Without a doubt, this information would help you to increase profit and reduce stress.
Pearl River Delta
Pearl River Delta ranks among the best places to find high-quality office furniture. In fact, it is considered the best location to find a top furniture manufacturer. The furniture brands in this zone occupy a central position in the market. These furniture brands cooperate together, establishing themselves as a strong force in the furniture market.
Aside from that, its thirty years of development make it the largest furniture industry zone in China. Moreover, it accounts for a third of the whole country's furniture products. Also, a more significant majority of its output is exported to America.
This area is close to Hong Kong and Macao, with abundant labor resources and many industrial clusters. It enjoys an early start in furniture manufacturing, a complete industrial supply chain, a developed sales market, and obvious brand advantages.
You can easily find top furniture supplier brands in the Pearl River Delta. A lot of them are willing to offer you quality furniture for your office.
Let's talk about the various furniture-producing areas of the Pearl River Delta. The main areas in this zone are;
Guangzhou
Shenzhen
Dongguan
Shunde
Foshan
Guangdong
Houjie Town in Dongguan is a well-recognized town for furniture manufacturing and exhibition services. Also, Dalingshan Town in Dongguan and Longjiang Town in Foshan City have become important furniture production towns for furniture and supporting materials.
Guangdong is the leading furniture production and marketing center in China. By making full use of its own advantages, it uses modern information technology to improve the technical level of the furniture industry. As well as to maintain the production and sales advantages of the industry.
Shunde District of Foshan City has established itself as an integrated base of furniture production, sales, support, and approval. On the other hand, Lecong Town has become a relatively large furniture distribution center in southern China
The furniture industry in Lecong is said to be one of the most populated places in China. The furniture city is found in the Lecong section of national highway 325. Here are some of the top spots in Lecong furniture city;
Lecong International Exhibition Center
Louvre International Furniture Exhibition Center
Sunlink Furniture City (north section)
Sunlink Furniture City (south section)
Red Star Macalline Brand Furniture Exhibition and Wholesale Center
Shunde Empire Furniture Wholesale Center
Tuanyi International Furniture City
Foshan International Furniture Expo Center (Easy home furniture market and Lesso home furniture market)
East Ment Furniture City
Related Article: Top 8 Lecong furniture mall shopping
It is composed of more than 180 modern furniture malls. Also, It covers a total land area of more than 3 million square meters and stretches for 5 kilometers.
The expert production and marketing of these furniture-producing areas in the Pearl River Delta makes it a trusted industrial zone for all types of raw materials. Coming to the Pearl River delta gives you a lot of options when you want to buy furniture.
Yangtze River Delta
You can also find high-quality furniture in the Yangtze River delta. It is the fastest-growing area of furniture. It enjoys many advantages such as;
ease of transportation
skilled labor
government support
capital availability.
Aside from that, this furniture-producing zone benefits from rich cultural growth and a good manufacturing industry foundation.
The primary furniture-producing areas are Jiangsu, Zhejiang, and Shanghai. They make the Yangtze River delta a rich furniture source. Besides, it has a large output, about a third of the whole country's furniture stock. This furniture is exported to Europe and the united states.
You get to enjoy the best furniture shopping experience in the Yangtze river delta. The furniture market has a large production capacity, well-equipped to produce high-quality products. Besides, enterprise management is excellent.
A notable area in this industrial zone is the Zhejiang province. Over the years, it has gained massive brand awareness and a rich sales model to rank among the country's best furniture factories. Aside from that, it has experienced rapid growth and enhanced brand awareness. Even better, Zhejiang province is divided into nine industrial regions with different features. Some of them are;
Hangzhou office furniture
Xiaoshan outdoor furniture
Wenzhou modern panel furniture,
Yuhuan European classical furniture,
Anji swivel chair
Shaoxing soft mattress
Yiwu and Huzhou mahogany traditional furniture,
Ningbo cabinet furniture,
Haining sofa furniture
Solid wood furniture exported by Jiashan
Shanghai also has a sterling reputation for being a furniture-producing hub. In fact, China's international furniture fair is held in Shanghai every year. Every September, China International Furniture Fair is held in Shanghai New International Expo Center (SNIEC). Since 2015, CIFF has also moved from Guangzhou to Shanghai (at the National Convention and Exhibition Center Hongqiao, Shanghai)This furniture fair acts as a meeting point for furniture exhibitors and buyers.
Suppose you would like to buy furniture from China. In that case, I recommend Shanghai and the Yangtze River delta to get a wide variety of furniture products.
Bohai Rim furniture manufacturing industrial zone
The Bohai rim furniture industrial zone is another important zone to acquire quality furniture for your home and business. It has a widespread reputation due to Shengfang's glass metal furniture, Wuyi's Ming dynasty, and Qing dynasty furniture.
It is a busy zone, containing the country's capital (Beijing) and is close to the Bohai sea. As a result, it enjoys rich resources and a superior geographical position.
It also operates in
With a considerable history in furniture manufacturing and a unique position, this location favors the operation of furniture enterprises, sales markets, and furniture marketing enterprises.
Located in this region are Xianghe and Shengfang, which are well-established furniture-producing bases.
Xianghe furniture is regarded as "the furniture trade capital of northern China" by CNFA. Likewise, the glass and metal furniture of Shengfang is well-known throughout the country.
Many metal and glass furniture manufacturers can be found in Shengfang. Because of this, metal and glass furniture in this region is more competitive than in other regions. Also, Shengfang furniture enjoys massive patronage in the Southeast Asia furniture market.
If you want to buy Metal and glass furniture, I recommend the Bohai Rim industrial zone for buying all types of office furniture.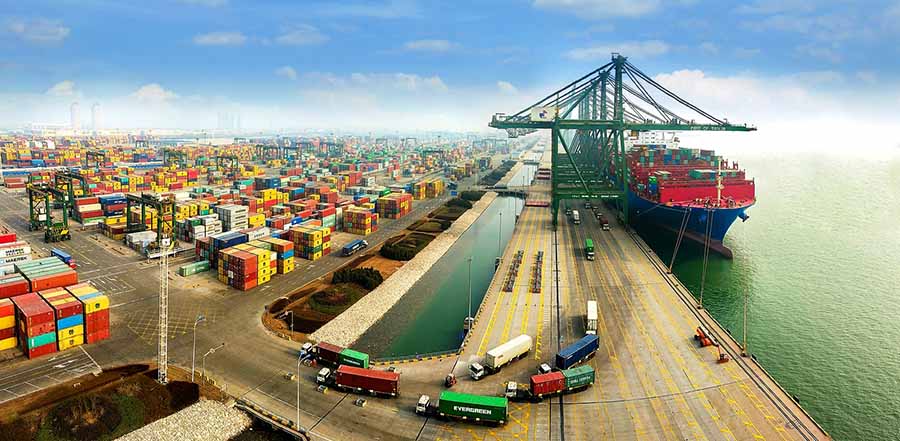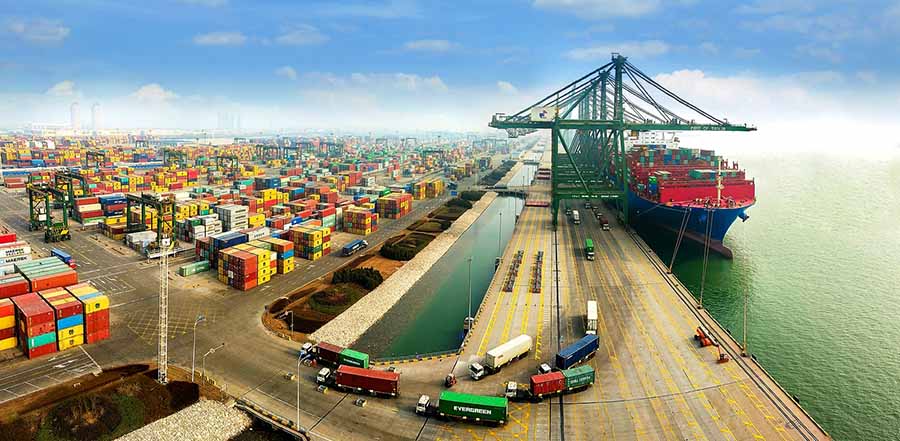 Northeast furniture industry zone
The northeast furniture industry zone is known for being the best place to buy solid wood furniture. This can be attributed to the natural richness of wood in the Daxinganling and Xiaoxing'an mountains. They also complement that wood resource with imported timber from Russia. This makes it an ideal location for many furniture factories.
It is located in Shenyang, Dalian, Heilongjiang, and other areas in northeast China. The furniture-producing enterprises in this industry zone have a high production strength. This makes them the first choice for the supply of solid wood furniture.
You can buy all sorts of high-quality solid wood furniture for your office from this region. They sell a wide range of furniture products with most of their products going to Northeast Asia and the European market. They also control a small part of the domestic market.
A notable feature of this industrial zone is the Shenyang furniture market. This is a furniture distribution center located in Shenyang. It supplies Liaoning province, Northeast China, and even inner Mongolia. It also has the most extensive export production base of solid wood furniture in China in Zhuanghe city located in Dalian.
Heilongjiang is also an excellent spot to buy a wide variety of solid wood and panel furniture. It has many furniture-producing groups such as
Harbin
Jiamusi
Yichun
Qiqihar
Mudanjiang
Qitaihe
And other surrounding areas
If you need to buy solid wood furniture, the Northeast furniture industry zone is a good place to buy from.
Western furniture industry Zone
The western furniture industry zone is known for its low prices, lower than the coastal area. As a result, it enjoys considerable patronage from many customers in China. It is also regarded as a sales center of central Asia.
You can check it out in Chengdu in southwest China.
It supplies the second and third-grade markets in central and western China. It also exports furniture goods to the international market. A considerable amount of furniture export is sent abroad to developing countries.
In recent times, the government recognized the furniture industry as a vital part of the economy. Hence, it has enjoyed the support of the government. Numerous policies have been formulated to help the furniture industry combat land acquisition and loan problems. And also the employment of furniture enterprises.
Even though it is not a famous furniture market, it enjoys a large market share in the furniture industry. Furniture manufacturers offer competitive prices so you can choose the one that works best for you.
Suppose you are looking to buy furniture for your office in southwest China, you should check out the western furniture factories.
Summary
Having sufficient information about the top five supplier zones is the first step to choosing a favorable office furniture supplier for your business. Besides, you may find it challenging to select from the many furniture suppliers available in China.
However, you can easily bypass this tedious process by contacting BOKE office furniture. We are an office furniture manufacturer in China. By amassing many years of experience and technical expertise, we are well-suited to provide you with the best furniture for your office. You can enjoy the best deals on office chairs and several other ancillary products.
Contact us today for the best prices.