There are thousands of office manufacturers in China. Many of them offer great value and quality for a reasonable and competitive price. That's why many private businesses and large importing furniture companies prefer China over other countries. If you plan to import soon, it's important to understand how to buy office furniture from China. By doing so, you can get the best office furniture deal possible. Here's everything you need about buying wholesale office furniture from China.
Why Import Office Furniture from China?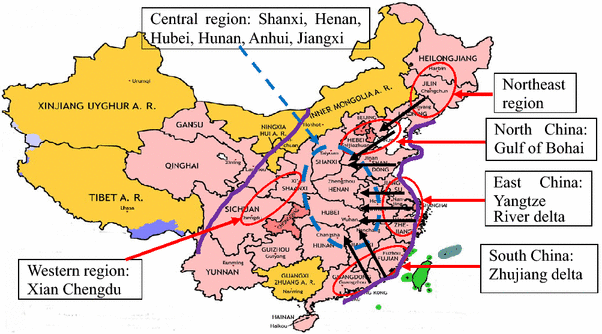 1.1 China Has Its Own Furniture Industry Zone
You will find China's furniture industry zone in Foshan's Shunde District. It is the largest base of furniture production and facilities. It is also one of the most mature because it pioneered production over three decades ago.
Within the district, you will find Lecong Furniture City. Lecong houses the largest Chinese furniture manufacturing suppliers and exporters. The city has over 3800 shops that can accommodate over 3000 furniture dealers. Annual sales are staggering with over 30 billion yuan – the highest earnings in China. Another well-known furniture manufacturing hub in China is Longjiang Town. The town holds the highest national furniture share, which is 1/6 of the market.
East and North China also have their furniture industrial zones. For the East, you'll find quality furniture suppliers around Shanghai, Jiangsu, and Zhejiang. While in the North, you will find them around Shandong, Hebei, and other districts. The North furniture zone primarily dominates traditional Chinese furniture.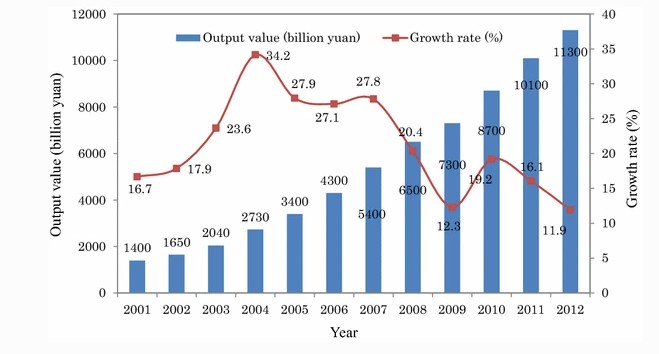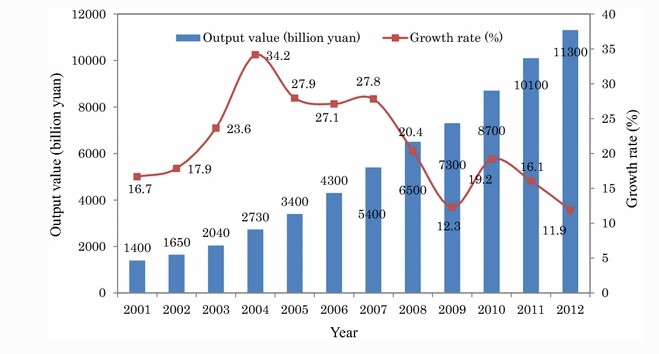 Gross output value of Chinese furniture
1.2 Holds 25% of Furniture Production in the World
Another reason to import office furniture from China is its steady growth over the years. In 2001 alone, the furniture industry accounted for 1.4 billion yuan of China's GDP. After a decade, it jumped to 1130 billion yuan. China is now manufacturing 25% of the world's furniture.
Everybody knows China produces and exports large quantities of furniture for international consumption. But, why? Is it the price, the quality, or the ease of exporting? There are so many reasons to consider. So, before we dive down into how to import office furniture supplies, let's find out why China is the top choice.
Related Article: China Office Furniture Market Analytics Definitive Guide and Case Study
Top 10 Chinese Office Furniture Manufacturers
2. How to Find the Right China-based Office Furniture Manufacturer?
Now that we understand how capable and powerful China is in producing furniture, let's discuss how you can choose the right office furniture manufacturers. If you want the best value for money without sacrificing quality, there are several factors you should consider.
2.1Production Capacity
As mentioned, there are thousands of office suppliers to choose from. So, it can get a little bit tricky to make a deal with. There are small shops that can handle local projects. On average, they can manufacture office chairs for less than 10,000. Medium-scale furniture factories can produce more. They can also do both local and international clients. Large-scale office manufacturers also exist. They have better facilities for more demand and higher furniture output for export. So, which one should you choose?
Small manufacturers usually ask for higher fees. This is because of limitations like lack of parts, incomplete manufacturing equipment, and limited overhead. The only upside is they have lower or minimum order quantity MOQ. Larger factories have more workers and better work products and facilities. But their high MOQ can be off-putting especially when you are new.
This is where partnering with a medium-scale office furniture manufacturer makes more sense. They offer reasonable rates for both small and large projects. Usually, they offer flexible terms not only for MOQ but also for shipping and packaging. Moreover, they have different departments to manage orders and make the entire process fast and straightforward.
2.2 Production & Export Experience
Look out for office furniture manufacturers that have years of experience not only in production but also in exporting furniture. From initial contact to shipping, they will provide a more seamless and stress-free process compared to inexperienced shops. Since they've previously dealt with international customers, they most likely employ English-speaking customer representatives too. This means easier and faster communication.
2.3 Well-Equipped Production Facility
Obviously, you'd want your furniture to be the highest quality possible. So, it makes sense to partner with an office furniture supplier that has the right equipment and a safe working facility. Don't have time to fly over to China? Many reputable furniture manufacturers offer an online or virtual tour of their factory showrooms. Some have pictures too. Ideally, you'd want to connect with a furniture factory with a large facility and its own warehouse
2.4 Integration of CNC Intelligent Production
Due to the nature of furniture customization, errors can occur if production solely relies on human operation. Therefore, an appropriate furniture factory should at least have an integration of CNC intelligent production to mitigate or reduce the possibility of worker errors. Also, make sure that they have a quality management system and comply with international standards.
2.5 Product Scope Line-Up
Manufacturers specialize in a certain area. For instance, office furniture manufacturers only make office furniture. They don't produce dining sets, beds, and outdoor furniture. So, make sure that you get in touch with a manufacturer that specializes in what type of furniture you need. They most likely have a go-to parts supplier, which means procuring is a breeze, and won't be an issue.
2.6 Dedicated Export Team
The right office furniture manufacturer should have a dedicated team for international customers. The export department should have experience or be familiar with all the aspects related to exporting furniture. They are also responsible for ensuring customer demands and order follow-ups are in place.
3.Where to find Office Furniture Suppliers & Manufacturers?
3.1 Alibaba
When it comes to anything related to wholesale, businesses flock to Alibaba. The website is the largest B2B directory and marketplace of predominantly China-based manufacturers. There are thousands of factories, trading companies, resellers, and wholesalers in one place. If you want to get in touch directly with manufacturers (you would want to avoid middlemen or traders because they may increase the price), you should narrow down or filter the results. Generally, you'd want to send a message to manufacturers that have registered capital, product test reports, and company certificates. Most importantly, avoid companies that have "trading" in the name.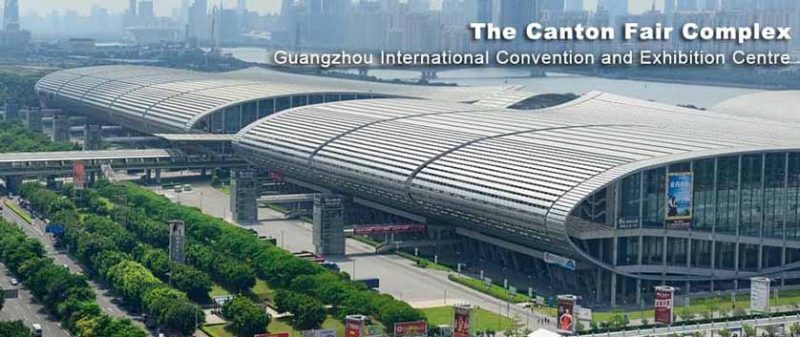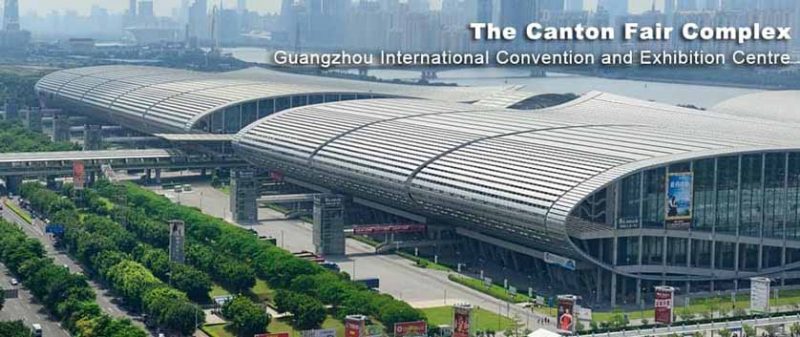 3.2 Attend Furniture Fairs
If you want to check the quality of furniture, the best way is to attend a furniture fair. There are two well-known furniture conventions in China – the China International Furniture Fair (CIFF) and the Guangzhou Canton Fair (CF). The CF is during April and October. However, it was moved to June 15-24, 2020.
The CIFF is usually held twice a year. The first event is from March 27-30. The fair's location is in Guangzhou at China Import and Export Fair Pazhou Complex. The second CIFF event is from September 8-11. Its location in Shanghai's National Exhibition and Convention Center. Due to the ongoing pandemic, the CIFF event is rescheduled from July 27-30, 2020. We highly suggest to regularly check the fairs' official websites for schedule updates and changes.
Since there are travel restrictions due to the pandemic, the Canton Fair exhibitions will go live from June 15-24, 2020.
3.3 Use the Right Keywords
As mentioned, you can use Google for your search, we suggest using keywords like "office furniture manufacturer" or "office furniture supplier" to get a better match. Usually, the first three pages of the query is a list of reliable suppliers. If you need a Chinese office furniture supplier, you can directly get in touch with us. We provide export quality office furniture. Use our contact details to ask for MOQ, price, shipping methods, and other concerns.
4. How to Communicate Better with Office Furniture Manufacturers?
Miscommunication can occur especially when talking with China-based office furniture manufacturers. To make it easier to order, here are three important tips:
Prepare your requirements beforehand. Before sending a message to a manufacturer, make sure to prepare job order requirements. List down your budget, number of office chairs, style needed, etc.
Use easy-to-understand words. Don't overcomplicate communication. Use simple words as much as you can with the requirements.
Understand the difference in the timezone. You may not get the same-day response because of the time difference. So, be extra patient. If you want faster replies, send a message during Chinese office hours.
5. Customs Declaration, Inspection, Delivery Date, Transportation & Other Problems
To mitigate issues associated with furniture exporting, the majority of China-based office furniture manufacturers now have their foreign trade departments. It is composed of individuals knowledgeable on custom declaration and inspection, shipping, and merchandising. They aim to make exporting as hassle-free for international customers. If you want a third-party inspection, most factories can suggest third-party inspectors. They can also get in touch with them on your behalf. Generally, these inspectors do an on-site factory visit for verification and certification. Some of the trusted inspection companies are SGS and TUV.
Many factories have a separate team that oversees the design, as well as research and development. Completion of general office furniture may take half a month or 15 days. However, there are some cases, especially higher quantity and complex customization projects, that may last over a month.
There are three kinds of shipping available – sea, air, and land delivery. About 95% prefer air transportation due to difficulties in land-based or cross-border procurement. Office furniture manufacturers usually provide the first sample through air delivery because of three reasons – affordability, more convenient, and faster. For Asian neighboring countries, successful delivery of the sample can only take 2 to 3 days. For other regions like Europe and North America, estimated delivery is more than 5 days. This includes export formalities.
When the customer is happy with the sample, office manufacturers will then send the rest of the orders through sea transportation. This delivery method is convenient and most affordable. Sea freight can take 3 to 7 days for Asian countries. For other far locations, it can take 7 to 30 days. Please do note estimated delivery depends on the order volume, weight, and final shipping address.
6.Procurement Concerns & Issues
Since office furniture is a large piece of item, procurement can take time, money and a lot of communication. That's why it is highly suggested to go directly to a reliable and reputable Chinese office furniture manufacturer. If not, you'll end up paying more with a reseller or a large trading company. Going direct will save you money and time in the long run.
7.How to Distinguish Manufacturers from Trading Companies
Manufacturers and trading companies are not the same. Manufacturers have their own facility to produce office furniture. Trading companies do not. They buy finished goods from manufacturers and retail them at a higher value or more expensive price. So, how do you know if you are communicating with a manufacturer or a trading company? Here are some factors you should look out for:
Specific Product Line-Up Or Niche
If a company carries different and unrelated products in their Alibaba store, that's a red flag. A real office furniture manufacturer should only have one niche. For instance, if a seller offers computer accessories and other miscellaneous items on top of their furniture collection, then they are obviously a trading company. Reputable office manufacturers will only sell what they make.
One advantage of cooperating with a direct office manufacturer is they can provide the best price. Trading companies usually jack-up the price so they can get a profit or commission for every sale.
Real office furniture manufacturers in Alibaba and other websites already have an existing price list. Upon initial communication, they can provide you with the MOQ, estimated delivery shipping, and other details. Trading companies, on the other hand, take longer to respond because they will need to find a manufacturer first, get a quotation, and then increase the price for profit.
Guaranteed Quality Assurance
Trading companies have shady quality assurance and warranty policies. In some other cases, they disappear after shipment is fulfilled. With direct manufacturers, they have a more comprehensive policy and guarantee that can last for several years.
Many trading companies steal product photos and claim it as their own. If you ask a manufacturer to provide you with better and newer pictures, they are more happy to give them.They can even give you product videos and a tour of their facilities.
Since trading companies do not have their own factories, they usually decline for on-site inspections. Manufacturers, on the other hand, allow you to visit the facility. As mentioned, they can also give you a virtual tour.
8.Introduction to Office Furniture
Furniture that is used inside an office is aptly called office furniture. One of the most common types of office furniture is an office chair. They are available in different variations such as a meeting chair, training chair, medium class chair, and so on. All these classifications are made to ensure worker's comfort and productivity. They usually have an ergonomic design and plush cushioning to accommodate extended sitting periods.
How to choose office furniture?
Step 1 – Determine the look or design of the office furniture.
You don't want to order furniture that doesn't compliment the interior of the office, right? If you are unsure, you can always get an office chair in a classic black color. But, if you need a unique look, many factories offer office furniture customization services. They have a design and research department to help you create one-of-a-kind chairs.
Step 2 – Assess how many rooms you have.
Do you need office furniture for all the rooms? Do you require specific furniture for those rooms? Asking these questions can help you find out how many office chairs and other items you need for the workplace.
Step 3 – What is your budget?
Now that you've narrowed how many office chairs you need and what kind of style, it's time to find out your budget. Many furniture manufacturers offer flexible MOQ. So, don't worry. You can refer to this article's how to find the right manufacturer section.
Step 4 – How soon do you need office furniture?
Production can take time. Depending on the quantity and complexity of the order, customized office furniture can take up to 30 days or a month. Keep in mind that shipping is not yet included. Partner with a reputable office furniture manufacturer so they have the capacity to handle large office furniture orders and experience to handle customs inspection, shipping, and more.
9.Summary
Importing furniture from China is the most cost-efficient way to get office furniture for your company or your clients. The country has the best furniture facilities and the largest manufacturers in the furniture industry. They are also the most mature in the market so they know how furniture trading or exporting works. However, costs can pile-up if you are to partner with a trading company or an agent (middleman).
Going directly to a reputable office furniture manufacturer can save you a lot of money and the headache of ordering from China. B2B office furniture manufacturers have the experience and expertise to cater to foreign companies. They employ English-speaking workers for fast communication and negation. They have a design department for customization needs. Moreover, they have a foreign trade department to assist with exporting concerns like customs inspection, shipping, and more. At BOKE furniture, we can make your office furniture based on your budget and other requirements. Get in touch with us today.
Related Articles