China's office furniture market is changing with each passing day. China's office furniture manufacturers have developed a key presence not only in China but in the world. In fact, China has become the largest office furniture exporter in the world. As a result, many businesses in foreign countries have started to pay attention to the growth and development activity in China's office furniture industry.
In this paper, we will analyze the current state of the office furniture market in China, the top office furniture manufacturers, market growth potential, development and distribution patterns and trends, and more to help businesses select the best office furniture manufacturer in China.
1. An Overview of the Office Furniture Market in China
Everybody knows China produces and exports large quantities of furniture for international consumption. But, why? Is it the price, the quality, or the ease of exporting? There are so many reasons to consider. So, before we dive down into how to import office furniture supplies, let's find out why China is the top choice.
China is the primary source producer and exporter of office furniture in the world. The office furniture market in China consists of eight Asia-Pacific countries:
China
Japan
Malaysia
Australia
South Korea
Taiwan
Thailand
Vietnam
The office furniture sector includes the following:
● Office seating (by type)
● Operative desks (by type)
● Executive furniture
● Office storage
● Wall-to-wall units
According to data provided by the General Administration of customs, China's export volume of office furniture reached $5.336 billion in 2019, with a trade surplus of $5.235 billion. According to data provided by Statista, revenue in the Office Furniture segment amounts to $12,464m in 2020. The market is expected to grow annually by 7.6 percent (CAGR 2020-2023).
During the COVID pandemic outbreak, according to the General Administration of Customs, China's export of office furniture declined by 6.6 percent in March 2020. Imports also declined in the same month. Meanwhile, in recent years, the epidemic has spread to the world, and the export of office furniture is expected to remain under pressure in the next few months.
Furthermore, economists polled by Reuters had expected exports from China to fall 14 percent in March 2019, while imports were projected to fall 9.5 percent over the same period.
In 2018, Seattle-based architecture firm, NBBJ devised a master plan for the construction of a massive Net City" district in Shenzhen, China to build the Tencent Building on the peninsula of Shenzhen Bay, a high-rise complex, which will be home to various online tech companies. According to The Wall Street Journal,"Net City" is estimated to be 21 million square feet, which is roughly the size of Midtown Manhattan.
1.2 The Increase in Office Furniture Manufacturers
With the increase in demand for office furniture in China, both domestic and overseas, statistics show the number of office furniture manufacturing companies in China has grown over the last decade, with a year-over-year growth rate of 7.91 percent. The majority of manufacturers situated in the Yangtze River Delta, Pearl River Delta, Northeast, West, Bohai rim, and five major industrial areas.
East and North China also have their furniture industrial zones. For the East, you'll find quality furniture suppliers around Shanghai, Jiangsu, and Zhejiang. While in the North, you will find them around Shandong, Hebei, and other districts. The North furniture zone primarily dominates traditional Chinese furniture.
1.2 Top 10 Office Furniture Manufacturers in China
Today's top 10 office furniture manufacturer giants in China include the following:
Lamex
Aurora
BOKE
SUNON
QUAMA
Kinwai
LOGIC
UB
Onlead
UE
Some Taiwan office furniture manufacturers such as AURORA came to China in the early 90s. After 30 years of growth and development, they have expanded their product line to now include office equipment, office furniture, 3D printing, electronics, intelligent equipment, and cloud business.
1.3 The Market Potential for Intelligent Office Furniture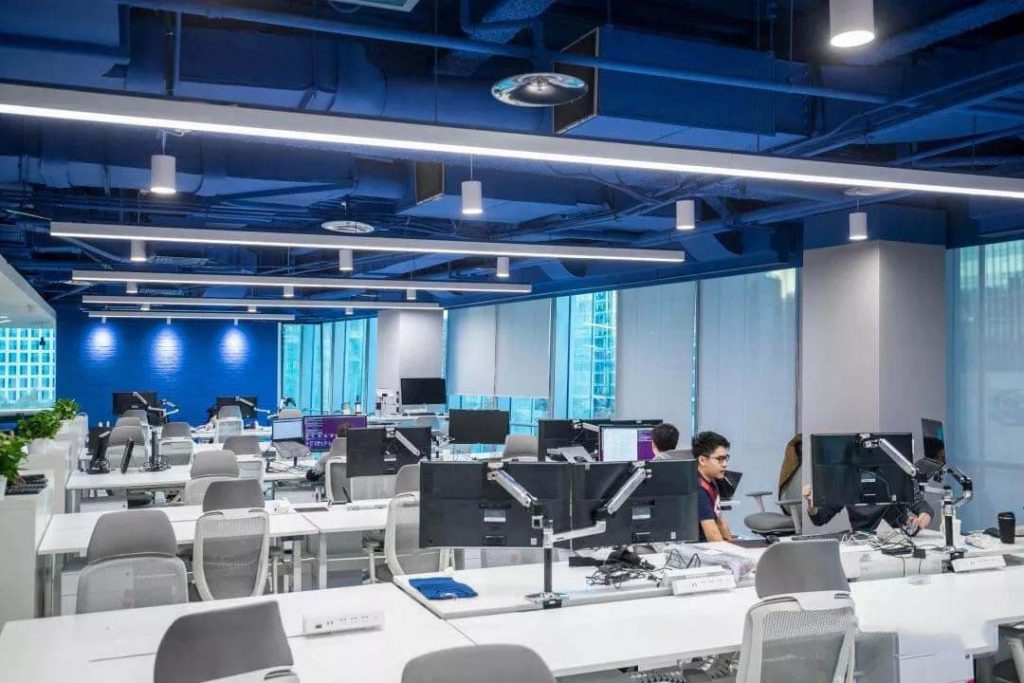 The market potential for intelligent office furniture is huge. The office furniture market in China has seen rapid development by leveraging production technology. As a result, China has become the largest production place of office furniture in the world.
As technology evolves and improves, offices become "smarter". Many businesses and consumers are turning to smart office furniture and accessories to ensure proper ergonomics, productivity, and efficiency in workspaces.
Furthermore, with the expansion of scientific and technological innovation achievements, the smart furniture market will become the next outlet.
In recent years, China's building economy has entered the "golden" development period. High-end office buildings are springing up in major cities across the country, driving the development of the high-end office furniture market.
Reports show that workers from the post-1990s era have become the backbone for sedentary people in the workplace. In order to meet the new generation's pursuit of intelligent and personalized office furniture, major manufacturers, such as Aurora and others have entered the intelligent office furniture market.
1.4 The Development Prospect of Office Furniture in China
The development prospect of office furniture in China is considerable, and the market scale is expected to exceed 200 billion yuan in the future. In fact, according to the Prospective Industry Research Institute, the total amount of global office furniture trade in 2017 exceeded $30.4 billion, an increase of 2.01 percent year over year. It is estimated that the global total trade volume of office furniture will reach $36.9 billion by 2023.
In 2017, the market scale of office furniture in China was 181.1 billion yuan. Among them, the market size of office chair furniture and office systems is 56.4 billion yuan and 52.6 billion yuan respectively, accounting for 31 percent and 29 percent of the market share of office furniture.
The Prospective Industry Research Institute claims that the intelligent and customized office furniture market will propel the future growth of the office furniture industry as a whole, exceeding 280 billion yuan by the year 2024, with a very promising future.
1.5 The Largest Sub Industry of the Office Furniture Industry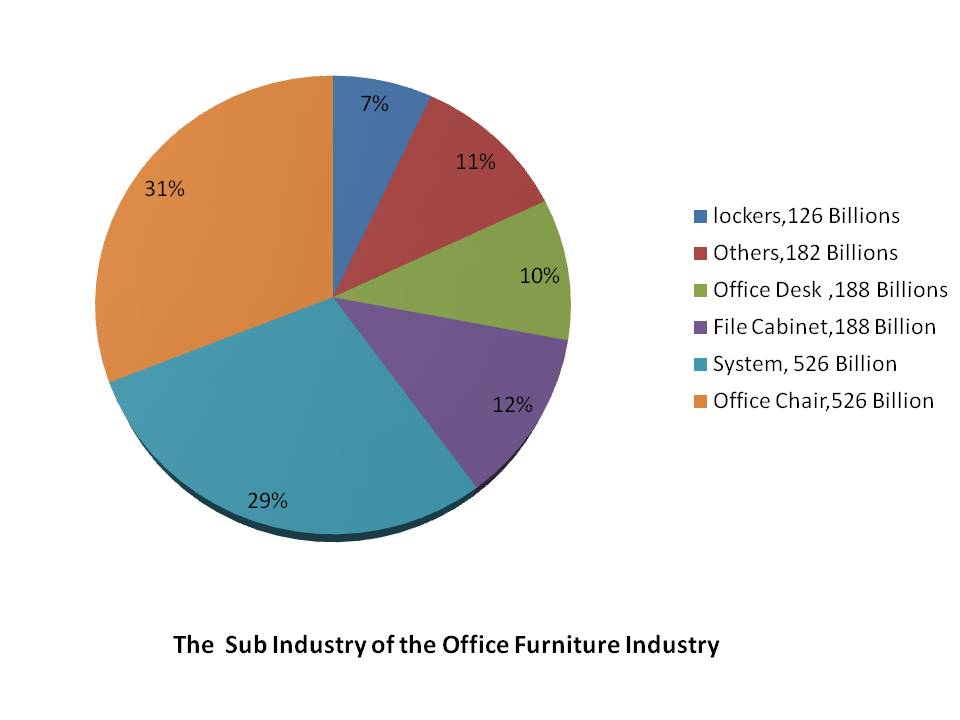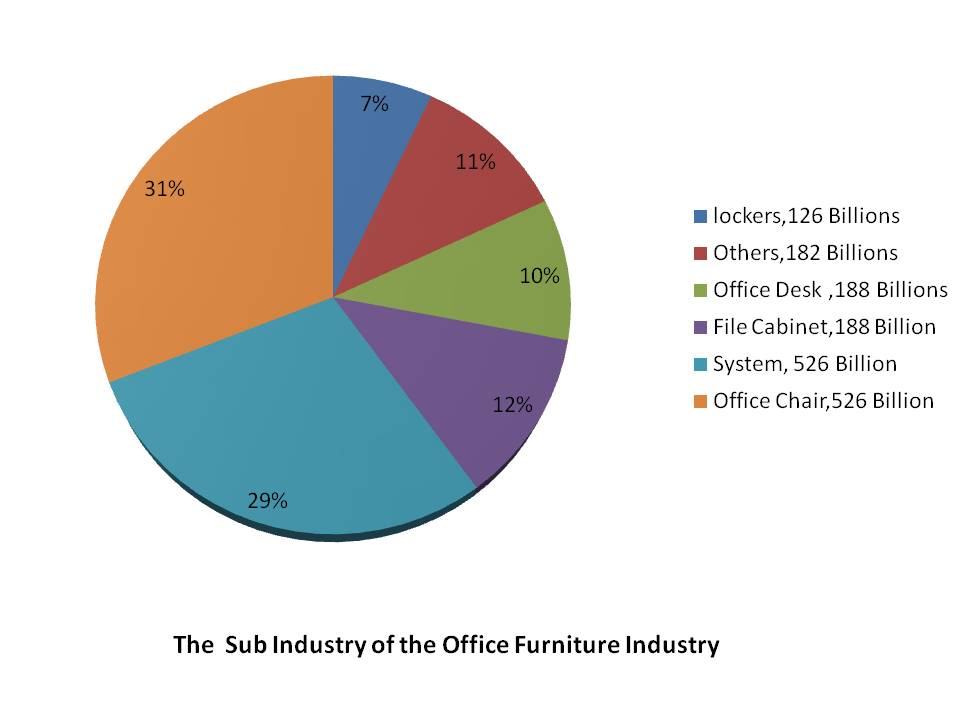 Please visit Top 10 Office Chair Manufacturers in China
Since the 1990s, office furniture products have developed rapidly, including office chairs, desks, filing cabinets, home theater seating ,system furniture (such as screens, table screen systems, accessories, and so on) and lockers. Office chairs continue to lead both domestic and overseas markets. The market share of office chairs in China accounts for 31 percent of the entire office furniture market.
2. Distribution Patterns of Office Furniture in China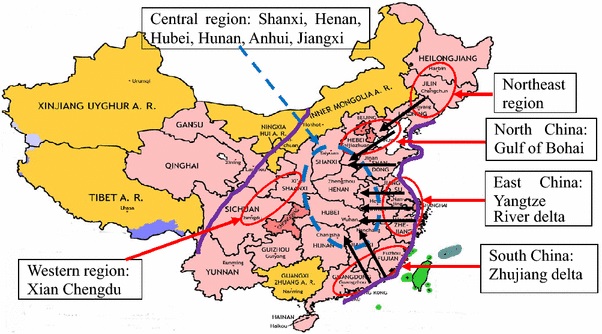 At the time of this writing,China's office furniture manufacturing enterprises are primarily located in five key industrial areas, including the Northeast, Yangtze River Delta, West, Bohai rim, and Pearl River Delta. Among them, the Pearl River Delta is the most developed and concentrated area. This is because this area is a prime location for exporting goods overseas to the Americas and other regions.
The Yangtze River Delta industrial zone and the Pearl River Delta Industrial Zone account for two-thirds of the country's market share and office furniture production areas.
The Yangtze River Delta industrial zone is mainly centered in Jiangsu, Zhejiang, and Shanghai. It is known for the production of swivel chairs, solid wood furniture, and other popular office furniture products. Its output value accounts for one-third of the whole country. Europe and the United States are the main target markets for the North China furniture industrial zone.
The Bohai rim area, located in North China produces ancient Chinese and more traditional furniture.
Related Article:Top 5 supplier locations in China- The ultimate guide
2.1 The Output Value of Yangtze River Delta
The Pearl River Delta industrial zone is mainly located in Foshan. Shunde District of Foshan City has been built into an integrated wholesale base for furniture production, sales, and support.
Foshan
Foshan is the birthplace of China's modern office furniture manufacturing, with the most mature, largest, and most complete cluster in the world. It is also the largest furniture wholesale and trade platform in the world. Foshan furniture manufacturing has become the most important force of China's furniture exhibition. As a result, it has earned the nickname, "the key town of China's furniture manufacturing".
Shunde
Shunde is the oldest area of China's furniture industry, with more than 6,000 furniture enterprises. After more than 30 years of development, Shunde has become home to a perfect industrial chain of office furniture manufacturers.
Within the Shunde district, Lecong Furniture City is located on both sides of Foshan Avenue South (the original national highway 325). At the time of this writing, the Lecong Furniture market is composed of more than 180 furniture malls all of the various sizes, with a total building area of more than 2.8 million square meters, more than 3,800 shops, accommodating more than 3,350 dealers at home and abroad, and exhibiting more than 20,000 furniture products from all over the country and the world.
Products are exported to East China, Europe, and the United States with annual sales of more than 30 billion yuan, ranking first in the country.
Related Article: Top 8 Lecong furniture mall shopping, the ultimate guide
Longjiang Town is another famous furniture town in Shunde. The Furniture Specialty of "one town, one product" has become a major feature of Longjiang regional economic development. Longjiang is honored as "the first town of Chinese furniture". The Furniture Specialty is known for its production of swivel chairs and sofas. These products lead the office furniture market in China with a national market share of approximately one-sixth.
2.2 Office Furniture Distribution in China [Table]
| Industrial area | District City | Provinces | Advantage | Foreign and Domestic Sales | Location Characteristics |
| --- | --- | --- | --- | --- | --- |
| South China Furniture Industry Zone | Guangdong Pearl River Delta is the center | Guangzhou, Shenzhen, Dongguan and Shunde Foshan, etc. | Industrial Cluster, Product supply chain, and Brand advantage | The output value accounts for 1/3 of the country, and most of the products are exported to the American market. | Shunde District of Foshan City has become a primary base of furniture production, sales, and wholesale. Lecong Town has become a relatively large furniture distribution center in the southern region. Longjiang Town has become a key production area for office furniture and materials. |
| East China Furniture Industry Zone | The industrial region of the Yangtze River Delta is the center | Jiangsu, Zhejiang, Shanghai | Product quality and management | The output value accounts for 1/3 of the country, and Europe and the United States are the main export markets | Primary industrial zone, focusing on the production of swivel chairs, solid wood furniture, and other popular office furniture products |
| North China furniture | The industrial area around the Bohai Sea is the center | Beijing is the center, Tianjin, Hebei, Shandong | Enterprise market and high market demand | Known throughout the country, including Southeast Asia | Traditional and ancient Chinese furniture styles |
3. China Office Furniture Industry Development Trend Analysis
3.1 The Rise of Advanced Equipment and Production Technology
In addition to the increase in office furniture production and manufacturing, the need and demand for advanced equipment and production technology in the office furniture industry in China have also increased in order to keep up with our digitally-driven ear.
In the past, customized furniture machinery and equipment were monopolized by German HomagHomag. However, in the last five years, Hongya CNC, Nanxing Equipment, and other equipment manufacturers began to lead the domestic market. Additionally, furniture manufacturers began to purchase domestic high-quality equipment. As a result, production technology increased steadily.
3.2 The Office Furniture Market Conditions: Large and Small
The production and development of the entire office furniture industry are supported primarily by large enterprises. As a result, these industry-leading brands are able to provide specialized and after-sales service.
On the other hand, smaller and medium-sized brands will be forced to adapt and innovate in order to remain relevant in the market as well as keep up with larger competitors to ensure their survival.
3.3 Differentiated Management Direction
Because of the variety and style of office furniture, it can be difficult to protect patents. Each year, many international and domestic furniture exhibitions have become the industry's internal model paradise. Many enterprises make significant investments in new products that are easy for smaller companies to imitate. This begs the question of whether or not research and development are still worth the investment.
As a result, many enterprises fear the homogenization of market products. For example, office furniture options offered in the same color, style, material, and price points are often difficult for customers to choose. Therefore, differential production and management will become the norm in the office furniture industry in the future.
3.4 Green Office Furniture Becomes More Mainstream
Since 2017, several key office furniture market participants in China have faced challenges related to environmentally-friendly production and export practices. As a result, many office furniture manufacturers had to invest in and adopt new processes, technologies, and operations in order to keep up with new environmental protection laws. However, not all office furniture factories were successful.
Buyers in both European and American companies place an extreme focus on companies and brands that follow environmentally-friendly production and manufacturing practices. In fact, these have become key elements in a buyer's purchase decision.
However, there is a difference between the domestic office furniture standard is a little looser than the western "green standard". Therefore, "green" environmentally-friendly practices will become a staple point in the office furniture market in the future.
3.5 Changes in Office Furniture Style
Over the years, customers' preferences and taste for style have changed considerably. In previous years and decades, office furniture was handed down from generation to generation. The preferred traditional office furniture style was adorned with beautiful mahogany wood, and it was known for its durability and valuable collection.
Customers are now more interested and attracted by more cultural, eclectic style furniture that enhances and coalesces with fast-paced, modern life. As a result, European and American fashion styles have entered the Chinese market. The classical European and Nordic simplicity, solid wood, plate, glass, and metal office furniture greatly enrich customers' style choices and preferences.
3.6 Modern Marketing Methods for Office Furniture
Office furniture has entered Furniture City, Furniture Square, and the specialized exhibition hall. Furthermore, office furniture dealers have grown and expanded from small kiosks and locations to becoming large brand promoters and acquiring "experience spaces" to sell office furniture models. Office furniture manufacturers have transformed individual product names and product promotions into larger brand promotion.
Office furniture franchises began to develop their own unique characteristics, and focus on building experience spaces as a key marketing method. These experience spaces will be set up for customers can interact with the office furniture products and familiarize themselves with office furniture brands before making purchase decisions.
3.7 The Importance of Personalized Service
The development of the domestic furniture industry is in the industrial optimization stage. With the help of modern information technology and flexible production processes, furniture can be customized according to consumer needs and preferences. This allows consumers to take advantage of key furniture characteristics, including stability, quality, environmentally-friendly materials and practices, and also high space utilization rates.
In fact, personalized production is one of the most important elements of customized furniture for consumers—and China has been ahead in the market. According to the Statistics of Information Systems used by domestic listed customized furniture companies, Chinese furniture companies are relying less on overseas information systems and focusing more on software developed in China.
Furthermore, the development of office furniture products is shifting from industrialization to customization. In recent years, the supply-demand relationship in the office furniture market has changed. Today the focus is on catering to customers' interests and needs.
Therefore, office furniture manufacturers must shift away from the passive after-sales service behaviors to the pre-production design stage in order to actively attract consumers, integrate consumers' opinions into product design, and customize and personalize products for customers.
Dealers must become service providers, selling products becomes providing services, all of which can be delivered digitally and directly to consumers.
3.8 The Brand War
The war over price and quality of products will shift to brand focus. Consumers want to familiarize themselves with and experience the brand itself. In fact, consumers who purchase from brands they know and trust are more willing to accept higher price points, which leads to broader profit spaces.
With the continuous improvement of consumers' material living conditions, they are more willing to invest in stable, quality products rather than cheap products. We've already started to see a shift away from the traditional "price war" and "quality war" to a "brand war".
3.9 The Growth Potential for the Chinese Office Furniture Market
All in all, as mentioned earlier in this paper,the growth potential for the Chinese office furniture market is high.With numerous brands and manufacturers dominating throughout East China, the construction of new office buildings, and even the development of "smart" furniture and technology, the market is only expected to grow in the not-too-distant future.
As a result, many office furniture manufacturers plan to expand into central and Southeast regions. Although many furniture factories shut down operations at the end of 2017 due to the inability to keep up with environmental protection requirements, the manufacturers who have been able to innovate and keep up with the requirements and demand will continue to survive the rapidly-changing market.
4. Conclusion: Selecting the Best Chinese Office Furniture Manufacturer
In the process of purchasing office furniture in China, it's important to understand the background of China's office furniture industry, the distribution patterns, industry trends, and growth potential in order to select the best Chinese office furniture manufacturer.
Related Articles: